Speaker of the House of Representatives, Mr Yakubu Dogara, has expressed "deep sadness" over the death of pupils following the collapse of Ohen School on the Lagos Island on Wednesday, calling on authorities to begin investigations into the true cause of the collapse and bring those responsible to book.
Dogara, in a statement issued by Special Adviser on Media and Public Affairs, Turaki Hassan, said it was heart-breaking that "innocent souls would perish in such a dreadful manner" and called for a thorough investigation of the unfortunate incident.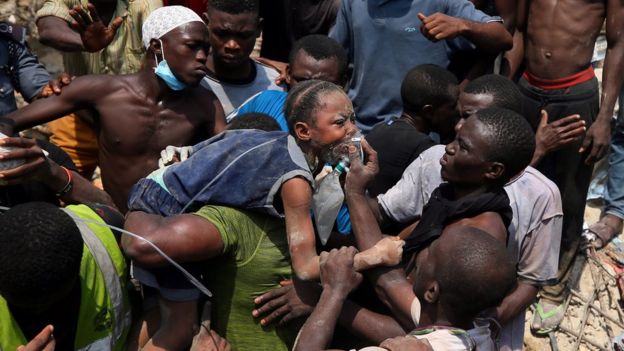 He said: "This is one too many of these building collapses that usually claim lives of innocent people. It is time for decisive actions to be taken against all found culpable in breach of building standards that end up in disasters. The law enforcement agencies and regulatory bodies must step up their game and put an end to the practice of cutting corners to increase gain."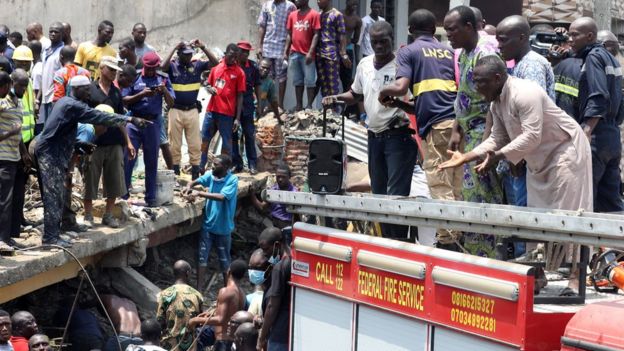 The House of Representatives Speaker added: "While this has not been established as the cause of this incident yet, past incidents have pointed to this as a serious factor. I commiserate with the families of the deceased and pray that their souls rest in peace."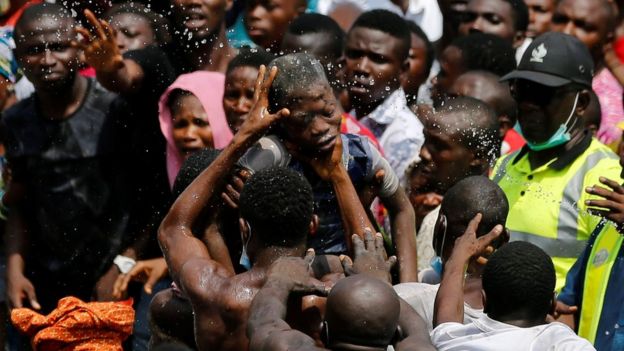 At least 10 people have died and many more are feared trapped after a building containing a school collapsed in the Nigerian city of Lagos. An official at the site of the tragedy told the BBC that eight of the dead were children.
The school, which was on the top floor of the four-storey building in Ita Faji on Lagos Island, had more than 100 pupils, a rescue official told the BBC. About 40 pupils had been pulled out alive, the official said.
Coincidentally, the building in question had been identified as "distressed" and listed for demolition, Lagos building officials told the BBC. The collapse happened at about 10:00 local time (09:00 GMT).
There were frantic scenes at the site as rescuers and local men searched for survivors, and family members crowded the area in the hope of finding their loved ones alive. According to residents and rescue officials at the scene, the collapsed building was a residential block containing a number of apartments as well as the school.
Emergency teams pulled several injured pupils from the rubble, but many worried parents at the scene were unable to find their children, while others went to a local hospital to look for theirs. Men from the local area were assisting rescuers but large crowds of people were hindering the rescue operation.
Meanwhile, Mohammed Muftau, a local resident who witnessed the collapse, told the BBC that the building had been cracking for long time and that complaints had been raised about it.
The Lagos State Building Control Agency confirmed to the BBC that the building had been marked and listed for demolition. It is not unusual for buildings to collapse in Nigeria; materials are often sub-standard and the enforcement of regulations is lax.